Archive
CST Conference October 2016
Eight members of the Kidney Health Education and Research Group attended the 2016 Canadian Society of Transplantation, Canadian National Transplant Research Program, Société Québécoise de Transplantation Joint Scientific Meeting from October 13 to 16, 2016 in Québec City, Québec.
Attendees included Aarushi Bansal, Candice Richardson, Dmitri Belenko, Dorothy Wong, Evan Tang, Franz Marie Gumabay, Sarah Cao, and Dr. Istvan Mucsi.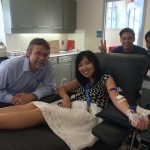 Team Blood Donor Clinic 2016
One afternoon in September 2016, we arranged to drop in to Canadian Blood Services' blood donor clinic on College Street in Toronto, and several team members rolled up our sleeves to give blood. We are always on the lookout for opportunities to participate in giving back to our community and to raise awareness of the importance of blood, organ and tissue donation.